I woke up greatly anticipating this day. Never mind the freezing weather, at 4 degrees C, by the way something coming from Singapore I'm definitely not used to. I was totally syked, bundled up in 4 layers of everything I had and on my way at 8 am on opening day (20th Jan) to make the long queue that I knew was already forming. I had advance tickets so I didn't think my queue would be that long, surely. Well.... nothing quite prepared me for this. Not even Jan's
post from previous year's show
.
Notice, how I'm not standing on line. That's because the queue down there was for the opening ceremony starting at 9 am which I didn't know about. The main show was starting at 11 am and I was at the front of THAT queue. You could not buy opening ceremony tickets online and in advance so there was no getting round this but wait it out until 11 am.
This was a far cry from the peaceful scene a day before when I did a recee of the Tokyo Dome.
That's the same front view and spy the staircase on the right which I was now dutifully fronting a queue.
I was ready to wait it out when a kind Japanese lady plucked me out of the queue and led me to the opening ceremony queue. Apparently she had an extra ticket, saw me freezing on the line and asked if I'd like to come in.
Just like that.
Doesn't that just make your heart melt? I was so touched by her generosity. She explained, in broken English, that she was a housewife who loved quilting and had an extra ticket from her friends who were vendors at the show. I have always said the Japanese were the kindest people on earth and I was beginning to experience that already. I never saw her again once we got inside....sigh.
So here I was at the opening ceremony. The overriding theme this year, was "Meeting Hearts By Quilts: Praying for Recovery and Renaissance from the Great Eastern Japan Earthquake"
You can't see it but I was giddy with delight, and happy to be in from the biting cold. The opening ceremony was graced by Princess Keiko(I hope I got her name right), that's her sitting on the back right there with members of the organising committee and representatives of some of the show sponsors to her front right and left. There was a speech too from a nice American lady whose name I didn't quite catch and presentation of awards for the Quilt Grand Prix Winner. See the winning quilts on my next post.
The crowds as you can see were incredible even this early in the morning but this was nothing compared to the crowds that would be walking in later at 11 am. I could see from here the goodness of the quilts on display and couldn't wait to get myself down there.
My big plan, something I learned from Jan, was to head for the vendors' booths first as the good stuff always ran out early, do a spot of fabric shopping then browse the quilts later in the afternoon...after the crowds had somewhat thinned out....hopefully.
First stop! My ultimate favorite La Clochette, Suzuko Koseki's booth
La Clochette
I love this woman! Immeasurably! Her fabric, which I admit, have stashes off are were always the bestsellers at my Etsy
store
. I needed to be the first one there.
Mad scramble
uh...I think everyone else had that very same thought. Her booth was 3 people deep when I got there. BUT.. I had a leg up on everyone. The day before when I was doing my recee of the Dome, I bumped into her staff preparing for the show today. I introduced myself and gushed all about my love for SK. So when I got to her booth they instantly remembered me and brought me forward to meet her. Swoon!
In spite of the madness at her booth, I managed though to get plenty of pictures of her new line, texts being one of her main forte, and wares on display.
Paris themed print
A signed copy of her new book ( I have not 1 but 8 signed copies of her books...yeah!)
New polka prints
More pictures including my SK fabric haul on my Suzuko Koseki exclusive post later this week.
After spending quite a bit of time.... and money at Suzuko's booth I was absolutely famished. At this rate I was not going to make it through all the hundreds of booths. I needed to regroup and plan my way through the rest of the day.
I sat down to my lovely bento lunch (mixed rice, rolls, karaage (fried chicken), pork balls
looking out into the lunch crowd and wondering how I was going to pull this off.
Lunch time crowd
When I spotted someone who I thought looked very familiar at Keiko Goke's booth - Quilt Wonderland.
Jan from Be*mused
- one of my favorite bloggers in the flesh. That's her on the right digging in for goodies at her favorite designers booth. I was hoping against hope to meet her here. Her posts about previous shows were my main motivation for planning this trip.
I quickly ran up to introduce myself and she was gracious enough to introduce me to Keiko herself. My first camera battery decided to ran out at exactly this point but thankfully Jan took that photo which Im hoping to get a hold of soon. I was tempted to leave another big wad of cash at Keiko's booth but I had to restrain myself this time. Which I realised was virtually impossible, and you can see my dilemma....(I pulled up my spare camera battery, which I knew I would absolutely need)
Keiko Goke's new stripe and color block prints
Quilted bags and goodies

 
Jan being gifted a spool of thread by Keiko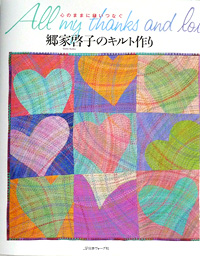 Keiko graciously gifted me a copy of her new book, which she informed me was only available currently in French and Japanese. An English version will be coming out later this year at her site.
More pictures of my haul from Keiko's booth at a post later this week. Im still sorting the 1000+ photos I took from the show.
Suffice it to say, my well laid plans were slowly falling to bits. Luckily thanks to my mysterious angel earlier in the day, I still had an extra day's ticket so I knew my quilt gazing, at least the majority of it, would have to wait until another day. The crowds had still not thinned out by this time anyway (around 2 pm now) so getting a close up of the quilts would be virtually impossible. Next up was Yoko Saito's booth and I still had to visit the Yuwa booth at some point later that day.
If your still with me this far....I hope you have a nice strong beverage at hand and a few hours to spare in the coming weeks. I have those 1000 photos to get through with another 11 posts to cover it all. I'll break it down into managable bits so that its easy to get through. A post each for the 6 categories of the quilt show, one each for Keiko Goke and Suzuko Koseki, one for the winning quilts, one for the rest of the booths that I managed to visit and a wonderful "Alice In Wonderland" themed section. Though some of the sections had photo restrictions, I managed to take loads and loads of photos and will cover the rest that I did not catch with pictures from the show catalogues.
I will also be putting up a flickr page too with all the pictures from the show in due time.
Next up the winning quilts.........